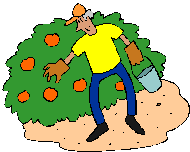 Looking for a local, pick-your-own farm in Scotland? Scroll down this page and you will see the U-Pick farms in Scotland, sorted by county. Those that offer organic or sustainably grown produce are identified by the words "organic" and/or "sustainable" in Green, next to their name . The U-pick crops they offer follow the name of the farm. To search the page for a specific crop, use Ctrl-F (or on an ipad or Mac, use their "search on this page" function) If they have a website, the name will be in blue and underlined; click on it and it will open their website. Beware of copycat websites (such as pickyourown.farm) ; they just co[pied my website a few years ago, and do not update their information as I do, so theirs are usually out-of-date -and often copied incorrectly! I put dates to indicate when we last received an update from each farm, and I make updates weekly (and whenever I hear from a farm or visitor with new info). See the customer and farmer menus at the top menu bar to submit updates and corrections and help me keep each current!
And if you know of any I missed and want to add them or correct the information, please let me know! There are affiliate links on this page. Read our disclosure policy to learn more.
What's in season in June 2022, and other timely information:
Notes for June 2022: Summer crops are stilll underway; don't miss the berry season. Autumn is upon us and the first apples start ripening in mid August, and are all ready in September and October. See our English apple varieties guide to pick that meets your needs best. Maize mazes are usually open in August and September. Pumpkin patches and picking usually starts in late September and October.
See this page for a harvest calendar to know when each crop is typically available.
We also have home preserving, bottling, drying and freezing directions. You can access recipes and other resources from the drop down menus at the top of the page or the site search. If you have any questions or suggestions, feel free to write me!
Scotland U-Pick Farms and Orchards, by county
Click on the resources drop-down above, if you need a county map
Aberdeen City and Shire (Grampian)
Argyll and The Isles
Ayrshire and Arran
Borders
Border Berries - Blackcurrants, redcurrants, raspberries, strawberries, restrooms, picnic area
Rutherford Farm, Kelso Borders. Phone: 01835 823763. Email: AL@BORDERBERRIES.CO.UK. Open: 7 days, 10am to- 7pm (cafe from 11am to 4pm) No need to book but always quieter in the evenings, from early July. Directions: A68, 9 miles North of Jedburgh, East at St Boswells on A699 for 4 miles on Kelso road. Follow Rutherford Farm / Border Berries signs. Family run farm on the south bank of the Tweed . The soft fruit PYO is on 7 acres. Facilities: Ample parking, picnic area, toilets. Click here for our Facebook page. one of Scotland's last remaining outdoor berry farms. Our berries ripen in the sunshine (no extra polytunnel heat) which makes for delicious, sweet berries only available in July & August. See Border Berries fruit page for more details of what's ripe when. Strabwerries start in late May, Wait until mid July onwards if you would like raspberries. Toilets: Located beside the cafe with easy access for wheelchairs, baby changing facilities. Picnic area: In a dedicated field beside car park. Dogs: Welcome in the car park and picnic area but not into the fruit growing areas. A tap and water bowl are located on the end wall of the cafe. (UPDATED: 11 July 2020, JBS)
Dumfries and Galloway
Dundee and Angus
Charleton Fruit Farm - Apples, blackberries, blueberries, cherries, currants (red and black), gooseberries, pears, peas, plums, potatoes, pumpkins, raspberries (red), raspberries (Spring, red), raspberries (Autumn, red), raspberries (yellow), raspberries (Spring, yellow), raspberries (Autumn, yellow), raspberries (black), raspberries (Spring, black), raspberries (Autumn, black), rhubarb, strawberries, tayberries, tomatoes, other vegetables, U-pick and already picked, gift shop, concessions / refreshment stand, ziplines, pedal kart track
Hillside, Montrose , DD109EW. Phone: 07703110865. Email: Mat@charleton-farm.co.uk. Open: Daily between 10 am and 4 pm. Picking updates: Click here for picking updates. Directions: Just off the A92 one mile north of Montrose. Click here for a map and directions. Payment: Cash, Debit cards, Visa/MasterCard, AmEx. Click here for our Facebook page. Additional veg grown and sold in store (including white asparagus). Restaurant and take-away, free kids adventure park, shop, holiday rentals, pick your own. Wedding venue opens September 2022. Entrance is free: Strictly no picnics. Free range eggs - see the chickens alongside the farm shop - soft fruit, own preserves and other local foods. They have a Coffee shop with an imaginative menu, including fresh fruit and vegetables from the farm, an indoor and outdoor setting, gift shop local produce and somewhere for the kids to play. April starts with the home grown asparagus followed in June by ready picked strawberries which then leads us to July and August for the pick your own season. (UPDATED: April 27, 2022)
Edinburgh and The Lothians
Belhaven Fruit Farm

- currants (red and black), gooseberries, raspberries, strawberries, and prepicked produce, snacks and refreshment stand, restrooms, picnic area, events at your location (call for info)
South Belton Farm, Dunbar, EH42 1RG. Phone: 01368863246. Email: office@belhavenfruitfarm.co.uk. Open: UPDATE for 2020, Their website is gone; Does anyone have current information, are they still offering pick your own or are even open? If so, please write me, their last reported hours were 10am to dusk. Directions: Just of the A1 at Thistley Cross roundabout 20 miles south of Edinburgh. . Crops are usually available in May, June, July.Payment: Cash, only. (UPDATED: 11 July 2020, JBS) (UPDATED: 04 April 2016, JBS)
The Strawberry Barn - strawberries, cafe, farmshop
Thistly Cross Roundabout, Dunbar, East Lothian, Scotland EH42 1ST. Phone: 1368 860573. Open: The ONLY way to PYO at The Strawberry Barn is to pre-book 30-minute picking sessions through our website, From the beginning of July you can choose your date and time to book a 30 minute PYO session for up to 6 people; PYO will operate between 10am and 5pm Wednesday to Sunday. We are closed on Mondays and Tuesdays. There is a Booking Fee of £2 per person from Walking Age+. The price in 2020 per KG is £6.50 for Elsanta A+ which is a Premium Strawberry variety. Our 25,000 Strawberry Plants are mounted on raised frames to allow for easy picking without the backache. Our strawberries are grown inside poly-tunnels so customers can pick them rain or shine. We plant a premium variety of July-bearing strawberry called Elsanta A+ which produces especially large and delicious fruit during late summer. This year we have to do things a little differently. To ensure the safety of our customers and staff we are offering Socially Distanced PYO through Online Booked Picking Sessions. A unique Venue, Café, Farm Shop and Fruit Farm located in the Heart of East Lothian. Click here for a link to our Facebook page. (ADDED: July 17, 2020, JBS)
West Craigie Farm Shop - strawberries, raspberries, cherries, gooseberries, blackcurrants, redcurrants, brambles, tayberries and pumpkins, courgettes
West Craigie Farm, South Queensferry, Edinburgh, West Lothian EH30 9TR. Phone: 0131 3191048. Email: john@craigies.co.uk. Open: daily, from 9 am to 5 pm. All fruits are available for PYO and ready-picked during the season at Craigie's. We also have most of the fruits available frozen in the Farm Shop throughout the year and make jams and chutneys from our fruit which are sold throughout Scotland under "The Jam Kitchen" name. Directions: visit our website. We operate a entry fee to our fields during the PYO season, refundable against fruit picked. Simply buy a West Craigie Farm Shop entry voucher online ahead of your visit to gain entry to the field. You can check out our availability report below to see what's available prior to your visit. On arrival, show your entry voucher in exchange for a basket and a mapLINK and we will guide you to the best field depending on what you would like to pick. All you have to do is pick your own fruit, fill your basket then weigh and pay! Entry to the field is from a pre-purchased voucher (in 2020, £5 per Adult and £2.50 per child) which is redeemable against the fruit picked. We do not offer refunds where the fruit picked comes in under the cost of the voucher. When's the fruit in season? It depends on the weather, but generally PYO strawberries start at the end of June and go on into August. Raspberries start mid July till mid August. We also have gooseberries, blackcurrants, redcurrants, Victoria plums, and big, beautiful sunflowers. See below for details (less fruit highlighted = less fruit, more highlighted = more fruit, no fruit highlighted = no fruit!). Register for our 'e-newsletters' and we'll keep you up to date with what's available when. Click here for a link to our Facebook page. (UPDATED: 11 July 2020, JBS) (UPDATED: 04 April 2016, JBS) (UPDATED: 23 July 2008)
Fife
Blacketyside Farm - Strawberries, raspberries, blackcurrants, blueberries, cherries, redcurrants and gooseberries
Blacketyside Farm, Leven, Fife KY8 5PX. Phone: 01333 423034. Mob: 07970130564. Email: blacketysidefarmshop@tiscali.co.uk. Open: six days a week, from 9 am to 5 pm during the berry season and 10 am to 4 pm at other times. Directions: on the A915 just east of Leven. sHere you can find a host of local produce and gifts , a fresh butchers counter, a florist and our very own tearoom offering scrumptious meals and cakes. For our younger visitors we have a large Fort which hosts an exciting playground, bouncy trampolines and slides. They have over 70 acres of strawberries, raspberries, blackberries, blueberries and cherries, . The introduction of the poly-tunnels has resulted in the soft fruit season being extended to 6 months which ensures consistency and continuity of supply. Potatoes and carrots are grown for our farm shop customers, barley is produced for animal feed and oats are sold to be milled for porridge. Click here for a link to our Facebook page. (UPDATED: 11 July 2020, JBS) (UPDATED: July 10, 2009)
Cairnie Farming Co. - Strawberries (4 varieties), Raspberries (3 varieties), Redcurrants, Blackcurrants, Gooseberries, Tayberries, Cherries, Brambles, Pumpkins and Sunflowers !
Cairnie, Cupar, KY15-4QD. Phone: 01334-655610. Email: info@cairniefruitfarm.co.uk Open: Daily, 6th March to 1st November from 10:00am to 6:00pm; picking stops at 4:30 pm - ALWAYS call or see their website BEFORE you go to check conditions and hours. Directions: north of the Firth of Forth and 2 ½ miles from Cupar in Fife. Directions from Edinburgh and Glenrothes: M90 north to junction 3, A92 through Glenrothes, turn right at Rathillet Village, approx 3 miles. Directions from Perth: M90 south to junction 9, A912 through Newburgh, turn left on A92, turn off at Rathillet Village, approx 3 miles. Directions from St Andrews: M90 south to junction 9, A912 through Newburgh, turn left on A92, turn off at Rathillet Village, approx 3 miles. See here for more on the Cairnie Mega Maze. The Mega Maze is open ONLINE TICKETS ONLY. Please note the indoor seating remains closed (2020).
The Farm Shop features the ready-picked fruit grown at Cairnie, all of which is also available to Pick Your Own The Maze is availble 13th July - 31 October, daily. The Maze, sown in maize, grows to a height in excess of 8 feet. By Mid July when the Maze officially opens, the maize will already have grown 4-5 feet in height. The crop grows at an astonishing average rate of an inch a day! Also: Tearoom Garden with home baking, Jams, Picnic & Children's Play Areas, Toilets, Free Parking. Open: Fruit Farm - 7 days: 09:30am - 6:00pm, Mega Maze - 7 days: 10:00am - 4:30pm (last entry). (UPDATED: 11 July 2020, JBS) (UPDATED: July 12, 2015, JBS)
Pittormie Fruit Farm & Nursery - Raspberries, strawberries, blackcurrants, redcurrants, tayberries, brambles, gooseberries (both red and green) and loganberries.
Pittormie Ryholme, Dairsie, Cupar, Fife KY15 4SW. Phone: 01334 870233. Email: info@pittormiefruitfarm.co.uk. Directions: Click here for a map and directions. We also have broccoli, cauliflower, potatoes, carrots, turnips, cabbage, jams, free range eggs and a nursery with bedding plants, perennials and hanging baskets. Open: Farm shop open 8am - 8pm June to October. "Egg Shed" open October to June. Directions: between Balmullo & Dairsie on the A914. Seasonal crops: Strawberries, Gooseberries (Red and Green), Blackcurrants, Redcurrants, Tayberries, Loganberries, Brambles, Blueberries, Rhubarb, Vegetables, Broccoli, Cauliflower, Cabbage. (UPDATED: 11 July 2020, JBS)
Greater Glasgow, Lanarkshire, The Clyde Valley
East Yondteron Farm - Strawberries, Gooseberries, Raspberries, Blackcurrants, Redcurrants, Blackberries, Peas, Broccoli, Potatoes
Innchinnan, Renfrew, Renfrewshire PA4 9LP. Tel: 0141 889 3492. Email: info@eastyondertonfarm.co.uk. Open: Pick Your Own Monday to Friday 10am till 8pm, Saturday & Sunday 9am till 5pm; When Crops are Ready for Picking. Directions: The farm is easy to access from the M8 motorway our customers come from Glasgow, Renfrewshire, Ayrshire, Lanarkshire, Dumbartonshire, and Argyllshire. Typical seasons are: Strawberries Late June, July and August; Gooseberries Late June, July and August; Raspberries July and August; Blackcurrants July and August; Redcurrants July and August; Blackberries End July thru August; Peas Mid July and August; Broccoli Mid July thru August; Potatoes Mid July through April. (UPDATED: July 11, 2020, JBS) (ADDED: 31 July 2009)
Highlands
Wester Hardmuir - strawberries, gooseberries, raspberries, cherries, black, red and white currents, loganberries, tayberries, blackberries and vegetables
A96, Auldearn, 2 Nairn, IV12 5QG. Phone: 01309 641259. Email: james@hardmuir.com. Directions: click here for directions and a map. Open: 7 days, 8 am to 6 pm from 1st February to 31st December ; PYO: July and Aug from 8.00 am to dusk. They have a large range of soft fruits and vegetables for PYO, plus pre picked apples, plums and cherries. Early and late strawberries. The pick your own season usually begins towards the end of June when the outdoor strawberries and gooseberries begin to ripen. As the season progresses, raspberries, black, red and white currents, logan and tayberries, brambles are also available for pick your own. Later in the season, towards the end of August, our apple and plum orchards are open for pick your own. We are also hoping that our newly planted cherry orchard will produce its first crop this year. To pick your own use our baskets (or bring your own) and we will direct you to the best fields for picking. Then pick your fruit and we will weigh it upon your return to the farm shop and you pay. Since 1987 families have been visiting us to purchase ready picked and pick your own soft fruits. Our Farm Shop is well stocked with a wide range of home grown & local produce including vegetables, potatoes, preserves & home baking. We also supply nearby retail & wholesale businesses.


| Crop | Date |
| --- | --- |
| Apples: | Late Aug to late October |
| Brambles: | Mid July to mid September |
| Blackcurrants: | Mid July to mid August |
| Blueberries: | Mid July to late August |
| Gooseberries: | Late June to late July |
| Plums: | Late August to mid September |
| Raspberries: | Late June till late September |
| Redcurrants: | Mid July to late August |
| Strawberries: | Mid June till late September |


(UPDATED: 11 July 2020, JBS) (ADDED: 02 August 2008)
Orkney
Outer Hebrides
Perthshire, Tayside
Broadslap Fruit Farm - Strawberries, raspberries, gooseberries, blackcurrants and redcurrants, pumpkins
Dunning, Perthshire. Phone: 01738 730242. Email: enquiries@broadslapfruitfarm.co.uk or Contact us. Open: Book your Pick Your Own time-slot now. Potatoes, cabbage, cauliflower and broccoli are also all available from the farm shop. Directions: Broadslap is just off the A9 between Perth and Auchterarder on the B9141 midway between Dunning and the A9. When you visit Broadslap, you'll see our delicious strawberries, raspberries, gooseberries, blackcurrants and redcurrants, growing mostly under cover - too many wet summers! You will also be welcome to visit and browse through our amazing farm shop, cafe, powered caravan sites, and our latest addition to the farm, our new and spectacular 'Childrens' Outdoor/Indoor Playbarn'. Pop in for a peek, you'll be pleasantly surprised. Click here for a link to our Facebook page. Click here for current Prices. (UPDATED: 11 July 2020, JBS)
Jamie Watson Fruit Farm - UPDATE for 2020, Their website says they are permanently closed.
Mill of Montague, Balbeggie, Perthshire PH2 7PR.
Peter Marshall & Co - Raspberries, cherries, strawberries, blueberries, Blackcurrants
Muirton, Alyth, Blairgowrie, Perthshire PH1 8JF. Phone: 01828 632227. Mobile: 01828 633070. Email: meg@petermarshallfarms.com. Open: Pick your own available by arrangement. Directions: 1 mile west of Alyth, 1 mile off the Blairgowrie/Alyth Road. More Directions: Muirton Farm - The farm is located approximately 15 miles North West of Dundee and 1 mile west of Alyth. To get to the farm by car or on foot, when you get into Alyth proceed along Airlie Street until you locate the Costcutter shop. On the other side of the road, St Ninians Road is to the left just after Costcutters. Continue up St Ninians Road 1 & 1/4mile, out of Alyth, until you reach the top of the hill where the farm is located on your right. Directions to the West Jordanstone Farm: The farm is located approximately 13 miles North West of Dundee and 1 & 1/2 miles south of Alyth on the B954. The No 57 bus from Perth to Dundee via Blairgowrie and Alyth goes past West Jordanstone Farm. Alternatively, the bus from Dundee to Perth via Alyth and Blairgowrie also passes the farm. Approximately 1 mile after Meigle is West Jordanstone Farm. (UPDATED: 11 July 2020, JBS)
W Glen + Son - cucumbers, strawberries, tomatoes, and prepicked produce
Mains Of Errol ERROL, Perthshire, PH2 7TE. Phone: 01821642878. Fax: 01821642878. Email: office@wglenandson.farm. Open: Monday to Friday 9am TO 6pm. Directions: We are situated one mile from Errol Village on the St Madoes Road. Payment: Cash, only. At Mains of Errol we grow Sonata and Malling Centenary strawberries on Seaton table top system. All our fruit is grown in polytunnels enabling continuity of supply and a non stop harvesting operation.
Ross-Shire
Black Isle Berries - Strawberries, Raspberries, Gooseberries, Redcurrants, Blackcurrants, Plums, Apples, Damsons, Cherries (although the birds usually beat us to them!)
Ryefield Farm, Tore, Muir of Ord, Ross-Shire, IV6 7SB. Phone: 01463 811276. Mobile: 07812 753 950. Email: enquiries@blackisleberries.co.uk. Open from 9am to 5pm Monday to Saturday all year round, PYO fruit is available from approximately the end of June to the end of August. Directions: 600 yards off the Tore roundabout on the Fortrose road. Just 10 minutes from Inverness and Dingwall. Black Isle Berries can be found at Ryefield Farm, Tore on the Black Isle, which has its own farm shop. There we can offer good quality, home-grown, seasonal fruit and vegetables. During the summer you can pick your own fruit. Please visit our Products page to find out what products we can offer.
Shetland
Stirling, Loch Lomond, The Trossachs & The Forth Valley
Briarlands Farm - strawberries, tearoom, outdoor activities
Stirling FK9 4UP. Phone: 1786 841309. Email: info@briarlandsfarm.co.uk. Open: 11am till 4.30pm daily. No need to book, but we do ask that you respect social distancing and follow staff instructions! We will also take a name and contact number for track and trace purposes! Payment: Contactless payment is preferred however cash can also be taken. We have loads of things to do, to keep the kids entertained and whilst most of our activities are outside, we do have a craft area within our family friendly tearoom for those wet days offering ceramic painting, sand art and decopatch; as well as an indoor soft play frame for under 7's and a play area for pre-schoolers. Briarlands Farm outdoor activities include
feeding the animals using feeding tubes
jumping pillows
tractor go karts
toddler trike track
play frames
springers
zip wire
swings
mini diggers and water blaster( £1 coin required)
sand pits
Sheep pen maze
Straw Box
Tractor & Trailer Rides ( £1 per person)
Archery
Football Golf
Pick Your Own strawberries (in season)
There is no charge to our tearoom where visitors can enjoy freshly prepared food from local suppliers including our own produce, our home-made jam and delicious strawberries are not to be missed
(ADDED: July 12, 2020, JBS)

---
---
Farmshops, Farmer's Markets and Roadside Stands, Etc. (NOT pick-your-own, unless they are also listed above)
Click here for farmshops in this area.
---
Farm Bed And Breakfasts
Aberdeenshire
Gryphon Christmas Trees Farm B&B - 3 total rooms, Price range from $35 to $50, Large beds, Large rooms, TV in rooms, Wireless internet available (no fee), Coffee/tea maker in rooms, Fresh farm breakfasts, Lunches offered, Farm dinners, Fresh eggs, Beautiful rural setting, laundry service available, washer and dryer available, Fishing nearby, horse riding, golf nearby, Within an easy drive to an Interstate road, children welcome, Pets welcome, Smoking permitted, Vegetarian meals available,
Warthill House, Miekle Wartle, Near Inverurie, AB51 5BH. Phone: 07734425282. Email: sarahaleslie@icloud.com. Directions: From the A96 turn off at Pitcaple signposted Durno(right if coming from Inverurie / Aberdeen, left if coming from Huntly / Elgin) Stay on this road for approx 4 miles (do not go into village of Meikle Wartle) and you will come to a sign advertising DRY FIREWOOD AND KINDLING FOR SALE on the left. The entrance to Warthill is immediately after this on the right by the SOUTH LODGE cottage AB51 5BH. Turn right up the private road for approx half a mile. Click here for a map and directions. Payment: Cash, only. Click here for our Facebook page. Photos: Click here for photos of the rooms and farmhouse. (ADDED: October 21, 2014)
---
Meats, Milk and Eggs:
Perthshire, Tayside
Tombreck Farm Shop - Pork, Lamb, Mutton, No hormones used, No antibiotics used, 100% grass and/or grain fed, Eggs (free range, vegetarian fed), sausage, Farm market with fruits and vegetables, Wedding facilities, Hiking trails, Fishing onsite, Within an easy drive to an Interstate road, Fresh eggs
Tombreck Lawers, Aberfeldy, PH15 2PB. Phone: 01567 829355. Fax: 01567 829355. Email: suemanning@tombreck.co.uk. Open: 7 days a week, daylight hours. Directions: We are on the A827 North shore of Loch Tay between Kenmore and Killin. 15 miles from Aberfeldy. Click here for a map and directions. Payment: Cash, Cheque. Click here for our Facebook page. Venison. (ADDED: January 28, 2015)