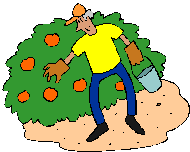 Looking for a local, pick-your-own farm in East Midlands? Scroll down this page and you will see the U-Pick farms in East Midlands, sorted by county. Those that offer organic or sustainably grown produce are identified by the words "organic" and/or "sustainable" in Green, next to their name . The U-pick crops they offer follow the name of the farm. To search the page for a specific crop, use Ctrl-F (or on an ipad or Mac, use their "search on this page" function) If they have a website, the name will be in blue and underlined; click on it and it will open their website. Beware of copycat websites; they just copied my website a few years ago, and do not update their information as I do, so theirs are usually out-of-date -and often copied incorrectly! I put dates to indicate when we last received an update from each farm, and I make updates weekly (and whenever I hear from a farm or visitor with new info). See the customer and farmer menus at the top menu bar to submit updates and corrections and help me keep each current!
And if you know of any I missed and want to add them or correct the information, please let me know! There are affiliate links on this page. Read our disclosure policy to learn more.
What's in season in December 2023, and other timely information:
Notes for December 2023: Summer crops are still going; don't miss the brambleberry season. Autumn is upon us and the first apples start ripening in mid August, and are all ready in September and October. See our English apple varieties guide to pick that meets your needs best. Maize mazes are still open! Usually best in August and early September.
See this page for a harvest calendar to know when each crop is typically available.
Strawberry festivals, fetes and fayres are still happening, although most are in June and July ! We also have home preserving, bottling, drying and freezing directions. You can access recipes and other resources from the drop down menus at the top of the page or the site search. If you have any questions or suggestions, feel free to write me!
East Midlands U-Pick Farms and Orchards, by county
Click on the resources drop-down above, if you need a county map
Derbyshire
Scaddows Farm - Strawberries, raspberries, gooseberries, red currants, black currants.
Derby, Ticknall, Derbyshire, DE73 7JP. Phone: 01332 694523. Open: PYO Fruit daily from 9.30am to 7.30pm; Farm Shop and Cafe daily from 9.30am to 5.30pm; We expect to open Mid/End June, keep an eye on Facebook for updates, Please Note from 27 July, the Opening Times will change to: Farm Shop and PYO from 9.30am to 5.30pm. Directions: Click here for a map and directions. Containers are available. Free parking. Click here for a link to our Facebook page. Scaddows Farm PYO has been a family business for over 30 years. Opening each season come rain or shine we produce exceptional soft fruit including our famous strawberries, raspberries, blackcurrant, redcurrants and gooseberries. Set in the beautiful rolling hills of South Derbyshire, PYO fruit is not only a great activity for all the family but a beautiful spot to come and soak up some sun and scenery. Our seasonal Farm Shop opens in May / June, sourcing high quality products from Derbyshire, Leicestershire and the Mid- lands with the finest possible value, together with a friendly, personal service. How It works… You arrive on your chosen day and follow the signs to our ample PYO car parking area. No entry fee is required on arrival. Just Pick (Containers are available on entry for a small charge. If you bring your own container please show it on entry for it to be weighed before you pick.) Weigh and then pay. Once you have paid for your fruit and container they are yours to keep and enjoy! Please note all fruit picked must be paid for so don't pick more that you want!Remember strict rule of NO DOGs allowed in the fruit field at all. If you do bring one it must stay in or near your car and cannot be walked around the site. With all this hot weather we would highly recommend you leave the dogs at home, somewhere cool with plenty of water to drink! (UPDATED: 10 June 2019, JBS) (UPDATED: June 22, 2014)
A visitor writes on August 08, 2015: "Absolutely brilliant experience. Well organised cafe and PYO. However need better signage so located more easily. Lots of selection of different soft fruits. Good to see young children getting involved."
Leicestershire
Grange Farm Soft Fruit - strawberries, Raspberries, Green and Red Gooseberries, Red and Blackcurrants, Blueberries, Blackberries and Broadbeans
Copston Magna, near Wolvey, Hinckley, LE10 3HE. Phone: 1455 220572. Email: enquiries@grangefarmcopston.co.uk. Open: Tuesday to Saturday from 9 am to 6 pm, Sunday from 9 am to 5 pm. Directions: We are situated in the peaceful village of Copston Magna off the A5 not far from Nuneaton, Hinckley and Lutterworth. Grange Farm Soft Fruit is only 5 minutes from the M69 and 3 minutes from the A5. We are situated in the small village of Copston Magna near Wolvey within easy reach of Nuneaton, Hinckley, Lutterworth, Rugby, Coventry (all about 15 to 20 minutes drive) and Leicester (30 minutes from the centre). For SAT NAV users our postcode is LE10 3HE. From M69 Junction1 Roundabout: Either: -- Take the A5 towards Lutterworth and at the top of the hill (High Cross) turn right and immediate right again into Copston Magna and follow our signs or -- Take the B4109 towards Wolvey, then the first left towards Lutterworth, straight over the roundabout following our directional signs*. Half a mile on the left hand side is the sign for Grange Farm and the turning for Copston Magna. Please drive carefully as you approach the village. Our typical season is: Strawberries and Gooseberries - mid-June to beg August. The family started growing soft fruit in the 1970s and we are now the third generation to carry on this tradition. You can come and enjoy picking your own Strawberries, Raspberries, Green and Red Gooseberries, Redcurrants and Blackcurrants, Blueberries, Blackberries and Broad Beans. Surrounded by beautiful countryside many customers remark that they find their visit extremely relaxing and therapeutic. Our Strawberries are grown on tabletops under cover to protect the crop from adverse weather which provides high quality fruit and all weather picking. With our tabletop system there is no bending and fruit is easy to pick and accessible for all in any weather.
Blackcurrants and Redcurrants - end of June to mid July
Raspberries - end of June to mid August
Blueberries and Blackberries - mid July to mid August
The season is dependent on the weather and some years we are open as early as the begining of June. (UPDATED: 04 October 2019, JBS)(ADDED: July 9, 2015, JBS)
Heather Cattows PYO Fruit Farm - Strawberries, Raspberries, Gooseberries, Red, White and Black Currants, pumpkins, Broad beans and sunflowers
The Cattows Farm Shop, Cattows Farm, Swepstone Road, Heather, Leicestershire LE67 2RF. Phone: (01530) 264200. Email: james@cattowsfarm.co.uk. Open: Daily during the season, Mid June to August, PICK YOUR OWN - FREE ENTRY
Monday to Friday and Sunday from 9am to 5 pm, Saturday from 9am to 6pm. Directions: On the main Measham to Heather Road, 10 mins from M (A) 42. Also, prepicked Broad Beans, New Potatoes. Asparagus cut to order April to June.We now grow 10 acres of traditionally grown strawberries (8 different varieties), 3 acres of raspberries along with gooseberries, blackcurrants, redcurrants and blackberries. Broad beans and sunflowers are also available for pick your own. Pumpkins are available for pick your own from the beginning of October.. A.k.a, Cattows Farm Shop. (UPDATED: 04 October 2019, JBS)
Hollytree Farm - strawberries
699 Broad Gate, Weston Hills, Spalding, PE12 6DP, UK. Open: They may have closed; Does anyone have current information, are they still offering pick your own or are even open? If so, please write me,Yes, they are listed on the copycat websites that copy from us, but that doesn't mean anything (they don't actually verify anything, just copy from here!) . Directions: click here for directions and a map. (ADDED: July 7, 2015, JBS)
Mill House - strawberries
Leicester Road Melton Mowbray, Leicester, Leicestershire, LE13 0DB. Phone: 01664c 500601. Fax: 01664 500601. Email: millhouse01@btinternet.com. Open: UPDATE for 2018 Their website is gone; Does anyone have current information, are they still offering pick your own or are even open? If so, please write me, their last reported hours were all year. PYO thru late Spring and Summer, May, June, July, August, 10am to 2pm Tuesday to Sunday inclusive; Often open until 5pm, call to enquire. Directions: A607 Leicester Road. Leicester Bound. 400 yards past the Focus do it All roundabout. Turn right on the apex of the first sharp left hand bend.Home Grown strawberries. GM free Free Range Pork. Free-Range Eggs. Plants, Reclamation, Livery, Haylage, Timber, Railway Sleepers, Reclaimed Bricks and Tiles, Doors, Hay & Straw. Hens also available for sale. (UPDATED: 04 April 2016, JBS)
Rutland water golf course - asparagus, raspberries, strawberries
Lodge Farm, Oakham, Leicester, Leicestershire, LE15 8HB. Phone: +44 (0) 15727. Directions: The course is situated between Edith Weston and Manton along the southern shores of Rutland Water. We are open May, June, July. Our hours are: 9 am to 6pm, 7 days a week. May: Asparagus. 15th June: Strawberries. 25th June: Raspberries. We are located at the same place as the golf course.
Seldom Seen Farm - strawberries, tayberries, blackcurrants, redcurrants, gooseberries, worcesterberries,
Billesdon, Leicestershire LE7 9FA. Phone: (0)1162 596742. Open: Call for current hours and availability. On our secluded 207 acre mixed farm, set in glorious countryside, we grow over 20 acres of fruit and vegetables for pick-you-own or sold ready-picked from the farm-shop. The shop opens for 2 seasons in the year: for the summer's soft fruit; and for the whole of December leading up to Christmas. In the summer season we grow 5 acres of strawberries, all on table tops so no bending - easy picking. There are 5 acres planted with several varieties of raspberries to take you right through the season, ending with Autumn Bliss. We also grow tayberries, a hybrid berry bred from a cross between a blackberry and a raspberry; blackcurrants, redcurrants, gooseberries, worcesterberries, a cross between gooseberries and blackcurrants, with soft juicy centres, that are splendid for jam-making or as a filling for a summer fruit pie. We also grow early- and main- crop potatoes, as well as broad beans. From our shop we sell our honey. Jams, chutneys and pickles made by a local friend, include well-fruited blackberry and raspberry vinegars. After picking you can always tuck into the various cakes and biscuits that we bake to serve in the tearoom. At Christmas we also sell own grown Norfolk Bronze turkeys, pheasant and partridge. Brussels sprouts on the stalk (so they remain fresh and firm throughout the holiday), as well as mince pies, sausage rolls, cakes and a large range of Christmas goodies. (UPDATED: June 21, 2018, JBS)
Whetstone Pastures Farm - blackberries, currants (red and black), gooseberries, raspberries, strawberries, snacks and refreshment stand, picnic area, birthday parties, school tours
Whetstone Gorse Lane Whetstone, Leicester , LE8 6LX. Phone: 0116 2774 627. Email: sandra@whetstonepasturesfarm.com. Open: Tuesday - Sunday 10 am to 5:50 pm.Directions: between Junctions 20 21 of M1 Motorway Just off A426 2 miles south Blaby. Payment: Cash, Check. Arts and crafts activities with HANDCRAFTED creative arts linked in with farm food and environment. Suit groups, schools Special activities during season including African weekends, bird watching. CEVAS accredited for school visits. Farm with Pick Your Own Fruit, Children's Play Barn, Pizza Oven (for special occasions) and Strawberry Cottage Tea Room in a traditional rural setting. STRAWBERRY picking; Our strawberries are grown in the ground - no tables or poly tunnels! Enjoy the fresh air the birds singing and the pleasure of freshly picked fruit. Let nature feed your senses! Open for Party / Group bookings and school visits. See contact page for directions to farm. We are 2 miles from Blaby on A426.(UPDATED: May 14, 2019, JBS) (ADDED: May 14, 2008)
Wymeswold Fruit Farm - Strawberries, Raspberries, Gooseberries, Red, White and Black Currants, Blackberries, pumpkins
Wide Lane, Wymeswold, Leicestershire LE12 6SE. Phone: 01 509 880 230. Alternate Phone: 01 509 881 885. Email: info@wymeswoldfruitfarm.co.uk. Open: every day during the season 10am to 7pm. Wymeswold Fruit Farm, our traditional family run farm, spanning three generations., located on the outskirts of Wymeswold. Enjoy picking a wide selection of delicious seasonal fruits, including strawberries, raspberries, blackcurrants, rhubarb and more. Come and enjoy a day out with the family and pick your own seasonal fruit in Wymeswold. We grow an abundance of delicious fruit throughout the summer months, including strawberries, raspberries, gooseberries, blackcurrants and more. Click here for our Facebook page. (UPDATED: 25 September 2023, JBS) (UPDATED: July 12, 2015, JBS)
Lincolnshire
Galley Hill Farm - Strawberries, Gooseberries, Raspberries, Tayberries, Blackcurrants, Redcurrants, Blackberries, Apples and Pears
Saleby, Alford, Lincolnshire LN13 ODY. Phone: 01507450399. Email: info@galleyhillfarm.co.uk. This is a family run PYO soft fruit farm & orchard. They also have a 5 van caravan site. British apples in season! Varieties include Bramleys, Fiesta, Falstaff, James Grieve, Jonogold Red, Katy, Russet Meridian, Sunset and Pears (Conference and Comice) Apples and pears start in September. Click here for a link to our Facebook page

J&R Priestley Berries

-

Minimizes chemical and pesticide use

, strawberries, already-picked produce
Nr Pilgrim Hospital, Sibsey Road (a16),, Boston, PE21 9QS. Phone: 07970 862356. Open: 7 Days per week 9am to 6pm. Directions: On the A16 approximately half a mile north of the Pilgrim Hospital, follow berry signs. Click here for a map and directions. Open from 3rd June 2009. We minimize use of pesticides and other chemicals. Payment: Cash, only. (UPDATED: 03 April 2015, JBS) (ADDED: May 31, 2009)
Top Farm, formerly J. N. Downend - asparagus, currants (red and black), gooseberries, potatoes, raspberries (red), rhubarb, strawberries, tayberries,
Top Farm, Lissington, Lincoln, LN3 5AF. Phone: 01673 885351. Email: downend@btinternet.com. Open: 1st June to end of July; 10am to 6pm Monday to Saturday, Sunday 10am to 4pm. Directions: We are situated on the main road between Market Rasen and Wragby, near the village of Lissington and hamlet of Bleasby Moor. During our open season there will be signs on the main road for the farm. Click here for a map and directions. Strawberries: early June to late July, Raspberries: late June to late July, Gooseberries: early June to early July, Red Currants: early June to late July. Payment: Cash, Cheque. We take ready picked orders as well as providing PYO. Before you come to pick we suggest you call us to check which fruit is available.
UPDATE May 2022: J Downend is under new ownership and now called Top Farm Enterprises. We plan to re-open with limited availability on tummelberries, rhubarb, gooseberries, and redcurrants in 2022 and more fully from 2023 to include Strawberries and top fruits with new opening hours. In the meantime, find out more at Top Farm Enterprises on Facebook.
(UPDATED: May 23, 2022) (UPDATED: 03 April 2015, JBS) (ADDED: March 04, 2011)
Peaks Top Farm - Strawberries, gooseberries, blueberry juke, apples, blackberries, redcurrants, blackcurrants, plums, rhubarb
Hewitt's Ave, new waltham, grimsby, NA DN36 4RS. Phone: 01472 812941. Email: info@peakstopfarm.com. Open: 10am-5pm daily; Our fruit season usually starts mid June until late July depending on the weather. Strawberries and gooseberries begin the season, with the raspberries, red and blackcurrants towards the end of June through July.. Directions: See their website for directions. Click here for a map and directions. Payment: Cash, only.. Eggs, summer fair, vegetables, fishing ponds, fruit wines We have been growing soft fruit for sale on the farm for the past 30 years. The soft fruit at Peaks Top Farm includes over 2 hectares of strawberries, a 'table-top' strawberry growing system, 5 poly-tunnels plus outdoor bush and cane fruit such as raspberries, black and redcurrants along with 3 varieties of gooseberries. New for 2016 we have planted a variety of blueberries called Juke. We welcome all members of the public to come to the farm and 'pick your own' fruit. At a little extra cost we have a ready picked service for all our fruit if you don't have the time to pick your own. Our blackberries come into fruit later in the year; generally around August. Once October arrives we move into our orchard to begin picking apples and plums. We grow 4 varieties of apples (Scrumptious, Russet and Falstaff eaters and Bramley cooking apples). The 2 varieties of plums are Victoria and Czar. Depending on yield we also aim to have rhubarb available in season. (UPDATED: June 21, 2018, JBS) (ADDED: July 11, 2017, Suggested by a visitor)
A visitor writes on July 11, 2017: "I've not been but driven past and wished i had and thought it was a shame it was missing from your list."
Spinney Farm - raspberries (Autumn, black), strawberries,
Carr Lane, Doddington, Lincoln, lN6 4RY. Phone: 01522 703865. Open: see our website for updates; Monday - Thursday 9am until 5pm; Friday and Saturday 9am unil 6pm; Sunday 10am until 4pm; Bank holiday's (Sunday hours); Christmas Eve & New Years Eve early closing, normally 2PM; Closed Easter Sunday, Christmas day, Boxing day & New Years day. Directions: Click here for a map and directions. on the b1190 between Doddington and the A57. Payment: Cash, only. Strawberries and Raspberries PYO From June to September Spinney Farm opens up its fields exclusively for PYO (Pick Your Own) harvesting in Lincoln. We have a choice of our famous strawberries and raspberries which can be picked throughout the warmer months. Perfect for any occasion for immediate consumption, baking or fill the freezer with quantities of family favourites. With Spinney Farms Pick Your Own fruit you have the guarantee it's totally fresh and full of good vitamin content plus you'll make a substantial saving on shop brought produce. Our strawberries are grown in troughs which means they are very easy to pick, no bending down needed Click here for a link to our Facebook page. (UPDATED: June 21, 2018, JBS) (ADDED: July 29, 2014)
Willows Farm Fruit - blackberries, blueberries, currants (red and black), gooseberries, loganberries, plums, pumpkins, raspberries, rhubarb, strawberries, tayberries
A52 Chapel St Leonards, Skegness, Lincolnshire, PE24 5UB. Phone: 07771 696001. Email: david@willows-farm.com. Open: June, July, August;: 7 Days a week, 9 am to 6 pm. Directions: From Skegness take the A52 north towards Mablethorpe. We are situated approximately 1 mile north of Ingoldmells just before reaching Chapel St Leonards. As well as PYO crops we always have ready picked fruit available. We welcome orders for large quantities or special occasions. In the farm shop we also sell our own grown new potatoes, cauliflowers, cabbage, beetroot, carrots, peas, broad beans, sweetcorn and salads and pumpkins (October time). Our farm shop will be open from early June when we will have our first strawberries available along with the new potatoes and fresh vegetables. Raspberries and currants follow in early July. Our Sunday Car Boot Sales start in June and if you want to come and stay at Willows Farm we now have a small caravan site. We grow several different varieties of strawberries, raspberries, red, black and white currants, tayberries, blackberries and gooseberries, and now plums and cherries. Sample one as you Pick Your Own, or buy them freshly picked at our farm shop. Field grown and 'table-top' production - no bending, and wheelchair friendly! We also offer camping facilities along with a farm shop.

(UPDATED: May 14, 2019, JBS)
Northamptonshire
Dovecote Farm - asparagus, blackberries, gooseberries, raspberries (red), strawberries, Other fruit or veg,
Dovecote Farm Newton, Kettering, nn14 1bw. Phone: 01536 742227. Email: info@dovecotefarm.co.uk. Open: PYO - Seasonal: Roughly End of May - September 10 am to 5. Directions: Click here for a map and directions. Payment: Cash, Debit cards, Visa/MasterCard. Click here for our Facebook page. Due to the nature of the English climate, it is impossible to accurately detail when each fruit season starts and finishes. Please call us to check availabilty. Dovecote Farm offers a range of services including a restaurant, tea room and function rooms for business and private hire. We grow seasonal soft fruit and retail through our farm shop selling fresh local produce and speciality food products. Dovecote Farm is located near Kettering, in the Northamptonshire countryside.
Asparagus Late April to June
Strawberries Early June to Late July
Gooseberries June to July
Raspberries Late June to Late October
Redcurrants Mid June to Mid July
Blackcurrants July to Late August
Blackberries August to September. (UPDATED: June 21, 2018, JBS) (ADDED: July 10, 2012)
Harpole Grange Farm - Strawberries, raspberries, gooseberries, blackberries, asparagus, maize maze
Upper High Street, Harpole, Northampton, UK NN7 4DJ. Phone: 1604 830276. The maze is open in August, then weekends only and close on the 20th September. (ADDED: 31 August 2020 JBS)
Saxby's Cider - pumpkins
Grange Farm, Farndish Wellingborough, Northamptonshire NN29 7HJ. Phone: 01933 353666. Email: info@saxbyscider.co.uk. Open: PYO pumpkin picking every day from 17th October to 31st October - o choose your own pumpkins, you can come on Saturday afternoon from 2pm to 5pm and Sunday afternoon from 12pm to 5pm and pick your own. (October 26th and 27th) - Shop hours are Monday to Saturday between 10 am and 2pm. HALLOWEEN PUMPKINS!! We have grown some beautiful pumpkins on the farm this year. You can buy them from our shop on the farm. Or if you'd like more of an adventure . We have traditional carving pumpkins and some gorgeous ornamental ones. All shapes and sizes! You bring your wellies - we'll provide the wheelbarrows. We'll be selling our cider and apple juice for you to take home too. Click here for a link to our Facebook page. (ADDED: 31 August 2020 JBS)

Overstone Grange Farm - Sunflowers, tulips, pumpkins
Overstone Grange Farm, Kettering Road, Northampton, NN3 7XA. Open: see their Facebook page; they have no published a phone number or even email, so Facebook is the only way to reach them. Pick your own sunflowers (summer), pumpkins (October) and tulips (Spring) on a family run farm near Moulton, Northants. Pumpkin patch coming October. (ADDED: 31 August 2020 JBS)
Sulgrave Manor and Gardens - Apples
Manor Road, Sulgrave, Banbury, Oxfordshire

OX17 2SD. Phone: 01295 760205. Email: enquiries@sulgravemanor.org.uk. Open: apple picking from the end of August, book online, from 10am to 5pm during the summer months, the garden is open Sunday to Friday. They hold one of the biggest Apple Day celebrations in the country (left). Residents from the surrounding village are involved, as well as local growers, cider makers, craftspeople, artists and performers. Sophie Grigson has given apple cookery demonstrations there for many years. In line with government guidance visitors to our shop will be required to wear a face covering from 24 July. Please bring one along with you.Please go to https://sulgravemanor.org.uk/general-public to book your visit. Toilet facilities are available on site. Dogs are not permitted at Sulgrave Manor & Garden. Tea and coffee (along with ice creams and crisps) are available to purchase on site. There is no cafe on site. It's the start of Apple Picking at

#

sulgravemanor

! In September 2020, grab your 10 apples for £2 while strolling through our orchard & filling in our activity sheet - what a treat! Click here for a link to our Facebook page. (ADDED: 31 August 2020 JBS)
Nottinghamshire
Brooke Farm - strawberries, raspberries and plums.
Brooke Farm, Main Street, Linby, Nottinghamshire, NG15 8AE. Phone: 0115 963 2638. Open: Monday to Thursday from 8 am to 3:45pm; Friday: 8 am to 3:15 pm; Saturday: 8 am to 3 pm. In the summer months, you can come and pick your own strawberries, raspberries and plums. They also grow raspberries, blackcurrants, gooseberries, apples, pears, plums, tomatoes, peppers, lettuces, courgettes, beans, cabbages and cauliflower. Any soft fruit left over at the end of the season is turned into home-made jams and preserves for sale in the farm shop. Our 350 chickens are free to roam in our orchard, producing fresh free range eggs throughout the year for competitive prices. All our Christmas trees are grown by our teams at other sites in Nottinghamshire. We sell Nordman Firs and Spruces from our farm shop from early December. (UPDATED: June 21, 2018, JBS) (ADDED: 04 April 2016, JBS)
Goacher's Farm Shop -

Uses integrated pest management practices

, Apples, blackberries, cherries, currants (red and black), gooseberries, other berries, pears, plums, pumpkins, raspberries (red), rhubarb, strawberries, tayberries,
Greenacres, Wood Lane North Wheatley, Retford, DN22 9BG. Phone: 014278 880341. Email: info@goforgoachers.co.uk. Open: See our website for current hours. Click here for current open hours, days and dates. Directions: On A620 Gainsborough to Retford road at North Wheatley. Do not turn into the village we are on the opposite side of the dual carriageway on Wood Lane. We use integrated pest management practices. Payment: Cash, Debit cards, Visa/MasterCard. Pick Your Own strawberries are available form mid June through until early August. Pick-your -own apples from September. Pears start in September. We grow several delicious varieties of cherries, mainly black with just a few white. In July (weather permitting) you can even pick your own cherries. We have a eight varieties of pick your own Raspberries available from late June until mid September (depending on the weather!) All freeze exceptionally well. Our pick your own Black and Redcurrants are available from July; all are excellent modern varieties such as Ben Lomond & Ben More. Worcesterberries look like large blackcurrants on gooseberry bushes. they are aAvailable July and have a more gentle flavour than blackcurrants and are excellent in summer puddings, pies and jam. They need to be very dark to be fully ripe. When ripe and ready you can pick your own Worcesterberries. Pick your own Blackberries are available from mid August to the end of Sept. They freeze well and taste wonderful in pies, jams etc especially when mixed with our apples. Pumpkins are available from Early October until mid November, especially good for Halloween & Bonfire Night. Also make good pies, soups etc. Our Honey comes straight from the bees used to pollinate our fruit in the orchard. Our home reared turkeys are available oven ready for Christmas. These need to be ordered in advance and a deposit paid.
(UPDATED: June 19, 2018, JBS) (UPDATED: May 12, 2014) (ADDED: November 10, 2009)
Hills Farm Shop - currants (red and black), raspberries, strawberries
Kirklington Village, near Newark, Nottingham, Nottinghamshire, NG22 8BU. Phone: 7388 827863. Alternate Phone: 01623 882664. Email: info@hillspickyourown.co.uk. Open: June, July; Tuesday to Sunday from 10am to 4pm. Directions: 617 between Mansfield and Newark. also Farm Shop at Edingley selling fresh home grown produce and plants. (UPDATED: June 20, 2018, JBS)
Retford Strawberries - Pick your own Strawberries and Raspberries.
Welham Road, Welham, East Retford DN22 6UG. Phone: +44 7444 128773. Open: in season (typically June and July) on Thursday, Friday, Saturday and Sunday from 10.30 am to 5.30pm or 6:30 pm; hours and days vary, so check with their Facebook page. Directions: Click here for a map and directions. Payment: Cash, only.. (ADDED: April 25, 2019, Suggested by a visitor)
---
---
Farmer's Markets, Farm Stands and Roadside Stands, Etc. (NOT pick-your-own, unless they are also listed above)
Click here for farmshops in this area.
---
Community food festivals:
Lincolnshire
Whitton Apple Fest 2015 - apples, asparagus, produce for sale, parking provide free, gift shop, snacks and refreshment stand, Held indoors in bad weather, Tents or other provisions are made for bad weather, FREE admission,
Whitton Village Hall Church Hill, Whitton, Scunthorpe, DN159LH. Phone: +44 7704 310764. Email: applefest@whittonvillagehall.co.uk. Open: Sunday October 18th from 1pm to 9pm. Directions: Click here for a map and directions. Payment: Cash, only. Welcome to Whitton's first annual 'Apple Fest' a celebration of all things 'apple' we hope to see you on the day and enjoy visiting our website to view the many activities we have in store. (ADDED: September 11, 2015)
---
Wholesale Foods
Nottinghamshire
Goacher's Farm Shop - Local sales at our farm, Local delivery, Preserves, jams, jellies, apples, blackberries, cherries, currants (red and black), gooseberries, other berries, pears, raspberries (red), strawberries, tayberries, Turkeys, Honey from hives on the farm, Fresh eggs, restrooms, picnic area (bring your own food)
Greenacres, Wood Lane North Wheatley, Retford, DN22 9BG. Phone: 014278 880341. Email: info@goforgoachers.co.uk. Open: See our website for current hours. Click here for current open hours, days and dates. Directions: On A620 Gainsborough to Retford road at North Wheatley. Payment: Cash, Debit cards, Visa/MasterCard. (UPDATED: May 12, 2014)
---
Meats, Milk and Eggs:
---
Farm Venues for Weddings, Events, Activities, Parties and Meetings:
---
Horse Rides and More:
---
Farm Bed And Breakfasts
---
Maple Syrup Farms and Sugarworks:
---
&