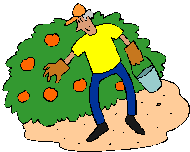 Looking for a local, pick-your-own farm in Northern Ireland? Scroll down this page and you will see the U-Pick farms in Northern Ireland, sorted by county. Those that offer organic or sustainably grown produce are identified by the words "organic" and/or "sustainable" in Green, next to their name . The U-pick crops they offer follow the name of the farm. To search the page for a specific crop, use Ctrl-F (or on an ipad or Mac, use their "search on this page" function) If they have a website, the name will be in blue and underlined; click on it and it will open their website. Beware of copycat websites (such as pickyourown.farm) ; they just co[pied my website a few years ago, and do not update their information as I do, so theirs are usually out-of-date -and often copied incorrectly! I put dates to indicate when we last received an update from each farm, and I make updates weekly (and whenever I hear from a farm or visitor with new info). See the customer and farmer menus at the top menu bar to submit updates and corrections and help me keep each current!
And if you know of any I missed and want to add them or correct the information, please let me know! There are affiliate links on this page. Read our disclosure policy to learn more.
What's in season in September 2020, and other timely information:
Notes for September 2020: Summer crops are stilll underway; don't miss the berry season. Autumn is upon us and the first apples start ripening in mid August, and are all ready in September and October. See our English apple varieties guide to pick that meets your needs best. Maize mazes are usually open in August and September. Pumpkin patches and picking usually starts in late September and October.
See this page for a harvest calendar to know when each crop is typically available.
We also have home preserving, bottling, drying and freezing directions. You can access recipes and other resources from the drop down menus at the top of the page or the site search. If you have any questions or suggestions, feel free to write me!
Northern Ireland U-Pick Farms and Orchards, by county
Click on the resources drop-down above, if you need a county map
County Antrim (Co. Antrim)
Streamvale Farm - Mostly a farm visit.
38 Ballyhanwood Road, Belfast. Phone: 028 9048 3244. Children's farm and PYO soft fruit
County Armagh (Co. Armagh)
Hampton Fruit - apples,
135 Red Lion Rd, Armagh, BT61 8PE. Phone: 028 3885 1072.Their Facebook page hasn't been updated since 2016, so if you do know more, please write me! (UPDATED: 30 August 2019, JBS)
County Down (Co. Down)
Finlay's Place - raspberries, gooseberries, blackcurrants and redcurrants
40 Comber Road, Killinchy, Co. Down, BT23 6PB N. Ireland. Phone: 028 9754 1221. Mobile: 07932 158830. Email: info@finlaysplace.co.uk. Finlay's Place is a family run business established in 2011* selling fresh local produce including potatoes, eggs and vegetables. After 32 years away in Warwickshire, Finlay has returned to the house where he was born - a solid Georgian farmhouse with adjoining barns which his father James bought in the early 50s.Given the location of this property on a main road, it seemed eminently sensible to start selling our produce directly to the public. Fresh, good quality, nutritious fruit and vegetables with minimal food miles.Situated on the A22 just a stone's throw from Balloo, Killinchy, Co. Down, N. Ireland, we have much to offer the discerning gardener and cook. We offer homegrown strawberries, raspberries, new potatoes and local seasonal vegetables in a rustic setting and welcoming atmosphere. Our Pick Your Own (PYO) is proving extremely popular among the locals in Co. Down. We also grow a good range of foliage, alpines, bedding plants and shrubs in our Nursery as well as ready- planted hanging baskets and planters to bring instant colour to your garden. We have the following fruit available for picking starting from the end of June and throughout the summer monthsBlackcurrants - Ebony variety. The sweetest blackcurrant ever! This outstanding dessert variety is so exceptionally sweet that it can be eaten straight from the bush when fully ripe. Raspberries - Glen Ample variety. A high yielding mid-season variety that produces large berries with good flavour and colour. Gooseberries - Invicta variety. A vigorous, spreading bush with large, pale green berries which are good for both culinary and dessert use.Redcurrants - Jonkheer van Tets variety. Bright coloured, redcurrants have a healthy amount of important antioxidants, known as anthocyanins. Click here for a link to our Facebook page. (UPDATED: 30 August 2019, JBS)
McKees Farm Shop - Trying to find out which fruit and veg are available as PYO
Stangford View /Holywood Road, Newtownards, County Down, Northern Ireland, BT234TQ. Phone: 028 9182 1304. Email: orders@mckeesproduce.com. Open: Monday to Saturday, 8:30 am to 6 pm.

Millview Farm

-

Organic

, currants (red and black), green beans, peas, raspberries (Autumn, red), strawberries, tayberries, other vegetables, Other fruit or veg, gift shop, restrooms, picnic area, farm animals, school tours
33 Ballydrain Road, Comber, BT23 5SS. Phone: 02891872337. Email: davezawadi@yahoo.co.uk. Open: Any time. Directions: From Comber Take the A22 Killinchy Road. Follow the brown tourist signs to Castle Espie. We are 1.5 miles from the A22 along Ballydrain Road. See the farm sign on the right hand side. Click here for a map and directions. Open at all times throughout the year, for sales and farm visits without obligation to purchase; You may purchase a wide range of vegetables and fruit from our shop. We are certified organic for some crops. Payment: Cash, Cheque. (ADDED: June 23, 2009)
A visitor writes on July 14, 2011: "There is a small shop, no suitable picnic area and no farm animals. No fruit left to pick when we arrived, even though we phoned to check! Not good for family day out"
County Fermanagh (Co. Fermanagh)
John L Brownlee - fruit
Legmacaffry, Enniskillen, BT92 6FB. Phone: 028 6773 8275. A number of generic business websites say they offer Pick Your Own Fruit & Vegetables, but I haven't been able to either confirm it, nor find more detailed information, so if you do know more, please write me! (ADDED: 12 July 2015, JBS)
County Londonderry (Co. Londonderry)
Claggan Pyo and Farm Shop - strawberries, raspberries, red gooseberries, green gooseberries, black currants, red currants, tayberries,
116 Highlands Rd, Limavady, BT49 9LY. Phone: 028 7772 2544. Open:
. We provide containers for you to pick into and there are no charges other than whatever weight of fruit you pick. We look forward to seeing you. Family owned farm just outside Limavady. Most days we have locally grown potatos. We also sell a range of jam making products including pot covers and certo, a range of useful recipes an we also sell jam pots for charity. This year we have planted new varieties of Strawberry and Raspberry in addition to those available last year. In addition we have opened up new grounds to our customers.. Fruit ripening dates will depend on the weather but as a guideline
Gooseberries start in mid June
Strawberries start around 20 June
Red and Black Currants start 28 June
Raspberries start 12 July.
Click here for a link to our Facebook page. (UPDATED: 30 August 2019, JBS) (ADDED: 12 July 2015, JBS)
County Tyrone (Co. Tyrone)
---
---
Farmshops, Farmer's Markets and Roadside Stands, Etc. (NOT pick-your-own, unless they are also listed above)
Click here for farmshops in this area.
---
Local Honey Sources:
---
Meats, Milk and Eggs:
---
Farm Venues for Weddings, Events, Activities, Parties and Meetings:
---
Horse Rides and More:
---
Farm Bed And Breakfasts
---